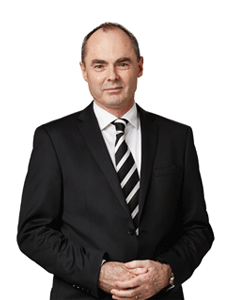 Ian McCrae, CEO
I an McCrae, CEO at Orion Health raises a simple question during his presentation at Connecting Michigan for Health three-day conference, "How many among you knows what Cystic fibrosis is?" Not very surprised as the crowd gives him an affirming nod, he states, "It's a very tough disease, the patients have thrived issues and are smaller." Being aroused by the fact as to why did McCrae start with 'Cystic fibrosis' specifically, the attendees were later informed that his son was affected by this rare disease. McCrae goes on to inform the success he and his son had in combating this genetic disease as he could found the right medicine that matched his son's genome. McCrae mentions, "We could do it all because of precision medicine which is a young and growing field, but many of the technologies that will be needed to meet the goals of the Precision Medicine Initiative are in the early stages of development or have not yet been developed." Trail-blazing the road to Precision Medicine is Orion Health. By aggregating, storing, and making sense of all forms of data, the firm enables the delivery of precision medicine that can transform healthcare from being about many, to focusing on one.
"Being the company's foundation integration solution, the engine helps healthcare organizations implement FHIR-based interfaces"
An emerging model of healthcare, Precision Medicine ensures an individual receives the current models of care delivery focus on applying treatments developed for the masses to all individuals. Precision medicine approaches are enabled by data leveraged from direct and indirect sources to provide a more holistic view of an individual patient. Applying precision medicine into mainstream clinical workflow will eventually facilitate more predictive and preventive care by bringing improved targeted therapies. By augmenting the process for differential diagnosis, clinicians can mitigate many of the inefficiencies that currently encumber care optimization. The great promise of precision medicine for the healthcare's future is finding breakthrough ways to personalize diagnosis and treatment of diseases but there are however, challenges, such as lack of analytical tools and the subsequent low predictive power of biomarkers that needs to be overcome . To address these challenges, Precision medicine a precision medicine platform, Amadeus. Built on modern and open technology, the platform will provide clinicians with the cognitive support they need to make the best decisions possible.
Precise Data for Precise Health
Precision Medicine is enabled when all forms of relevant information about an individual are combined, analyzed, enriched and turned into valuable insights, then actioned through workflow tools to deliver personalized care plans for every individual.
We are developing a smart suite of precision medicine applications that can enable life-changing decisions
Where population health management is the "who"- defining which cohort of patients is high risk and needs particular attention and coordination to adhere to care plans, Precision Medicine is the "how", enabling the determination of exact prevention and treatment plans. Built on modern, scalable technology that opens the way for clinicians to receive the contextual data they need to make the best healthcare decisions possible. Amadeus handles massive volumes of high velocity data, combining a comprehensive range of data models including clinical, consumer, and genomic, with powerful custom data modeling capability. "We are building a thinking software for life – a smart suite of applications," says Ian McCrae, CEO, Orion Health. This software noes McCrae combines Orion Health's extensive data integration experience with the scalability and performance of Cassandra TM, Spark TM, and Elastic Search TM and a distributed architecture.
This provides clinicians with real-time patient-centric information enabling strong diagnostic and treatment decisions. The decisions can be based on a deeper understanding of a patient's particular illnesses and the likely effectiveness of specific treatments, all taken from data collated by Amadeus. Furthermore, layering genome data over other forms of patient data will help accelerate the ability of researchers to identify links between particular variants and patient conditions or outcomes.
Next, Amadeus converts this aggregated and normalized data into well-structured patient registries that help identify pain points in a population and drive proactive care initiatives by streaming data from the data engine to the analytics engine in real-time. The intuitive analytics tool in Amadeus, Population Health Explorer allows users to explore data sets, discover meaningful insights and identify gaps in care in an interactive manner.
The platform also allows third-party developers to access the rich data and services in real-time, and leverage a superior patient-centric record, through its API Management layer and Open REST-based APIs. Organizations can develop specialty applications through which users can securely interact with authorized records, improving the delivery of care and creating a competitive advantage in new market models.
Integrating Data—Seamlessly
Further, through its Integration Engine, Rhapsody, Orion Health Amadeus sources patient information from numerous third-party systems, whether from transactional messages (HL7) or bulk file exchanges for presentation in lists. Designed to offer rapid and reliable integration, Rhapsody Integration Engine provides a comprehensive set of tools to simplify complex healthcare interoperability. "Being the company's foundation integration solution, the engine helps healthcare organizations implement FHIR-based interfaces," says McCrae. The firm's JSON and HTTP Rest support within Rhapsody routes enable FHIR-based interfaces.
Rhapsody Integration Engine is designed for rapid interoperability between healthcare IT systems, regardless of technology or standards. Its proven technology works between different systems and across organizations, providing seamless connectivity between legacy and next-generation health systems. Rhapsody provides fast, reliable connectivity and data sharing within and among hospitals, Health Information Exchanges and public health organizations.

The Client Engagement Advocates

One of the defining factors of Orion Health is the ability to deploy helpful solutions in their implementation model. The firm's implementation approach depends on the complexity of the project which have detailed project plans and stage gates—each of which has a detailed set of deliverables. The firm advocates broader client engagements, not only at the technical project level, but at the governance and business level.

The company supports its customers and works with them to realize their clinical, financial, and operational expectations of Orion Health's systems. Customers provide feedback on implementation milestones in the project plan, and Orion Health works with these responses to generate a constant loop of feedback on customer experiences. A key differentiator of the Orion Health implementation model is its focus on business outcomes, driven by adoption and utilization, rather than delivering on the technology and hoping the customer makes the best of it. Orion Health goes as far as to engage with the business and its clinical stakeholders to ensure that the technology is being used correctly, and remain engaged with the customer until they see success. This is fundamental in creating Orion Health's longstanding customer base. Orion Health has a large customer base in North America, including Health Information Exchanges, ACOs, CINs, and IDNs. While most of these customers are at an earlier stage in the population health management maturity model, focusing on aggregating patient and member data, the Orion Health platform is the key building block to take them into the future of Precision Medicine.

Future-proofing Healthcare Practices

Outcomes-focused healthcare models require a modern open platform to connect and leverage data from multiple systems across the community. Increasingly, healthcare organizations and networks are seeking advice and IT support to put in place the infrastructure required to achieve the level of information sharing modern healthcare requires. Orion Health has the products and services to help organizations in navigating their path through the shifting sands of the US healthcare paradigm and achieve better health outcomes while reducing healthcare costs, delivering population health management and future proofing them to enable Precision Medicine.

From interoperability, to population health management, and precision medicine—the level of growth and widespread impact that Orion Health has created has made strong ripples. The firm is bound to advance not only the technology, but the infrastructure of healthcare and ensure that patients experience a level of service they've never seen before.