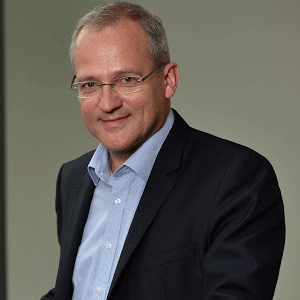 Michael Kloss, CEO
"Innovation is in our DNA, and is the key to developing new solutions for our customers," mentions Michael Kloss, CEO of Ascensia Diabetes Care. "As a company that aims to lead in diabetes care, we want to understand the needs of people living with diabetes and provide solutions that help them address those needs."
Ascensia Diabetes Care was established in 2016 through the sale of Bayer Diabetes Care to Panasonic Healthcare Holdings. The company has a longstanding history in the diabetes community and a proud legacy of innovations and firsts in diabetes management. Ascensia is now continuing to use these many years of experience and specialist subject expertise in diabetes to develop high-quality solutions for patients.
The company markets blood glucose monitoring devices and combines advanced technology with user-friendly functionality that can help patients with diabetes to better monitor and manage their condition. Ascensia is known for their highly accurate meters and the CONTOUR
®
PLUS, which is widely available across the region, has proven accuracy, especially at low blood glucose ranges. It is built on the standards of ISO 15197:2013, using remarkable accuracy technology to deliver results that patients can trust.
The CONTOUR
®
PLUS also includes the Second Chance sampling feature that allows a patient to add another drop of blood within 30 seconds if the first one wasn't enough, helping to prevent wastage of test strips.
"This feature helps patients with an issue they face in their diabetes management patient. It demonstrates patient-centered innovation and is exactly how we want to continue to develop our products" added Kloss.

In Asia, the firm's latest innovation is the CONTOUR® PLUS ONE blood glucose monitoring system. It is a wireless-enabled blood glucose smart meter that can seamlessly connect to the accompanying CONTOUR® DIABETES App on a smart device via Bluetooth. With CONTOUR® PLUS ONE, patients get highly accurate results with an error margin of ±8.5% that is better than the latest ISO accuracy standards. Through the smart light feature on this product, patients can get instant feedback on their blood glucose results compared with their target levels.

This system features the CONTOUR® DIABETES app for collecting, storing, and analyzing patients' blood glucose measurements. Patients can use the app as an electronic log book and check how the daily activities impact their blood glucose levels, helping them to make better diabetes self-management decisions.

India is the first country in the region where Ascensia has launched the CONTOUR® PLUS ONE and CONTOUR®DIABETES app, and more launches in other markets are planned in 2018. "We have seen a very positive response from clinicians and patients in India and are seeing this new system being adopted by users across the country. It is simple, intuitive and is empowering more and more patients to self-manage their diabetes" explained Kloss.

Ascensia has a global footprint and a major presence in Asia. Kloss explains "We have offices in eight countries in the Asia Pacific region, as well as our partner company, Panasonic Healthcare, who are based in Japan. Our products are also available in many other Asian countries, where we have agreements with local business partners. The Asian market is a key to the long-term success of our business, and we are seeing ongoing growth and significant opportunities in Asia."

Going forward, the firm intends to use its innovation and R&D programs to be at the forefront of diabetes care solutions. "We have traditionally been a blood glucose monitoring company, and although that core business will continue, we are seeing the growing importance of connectivity and holistic diabetes management solutions. We believe that integrated diabetes management is the future, and we want to provide solutions for patients that can use data and connectivity to help improve all aspects of their diabetes," concludes Kloss.